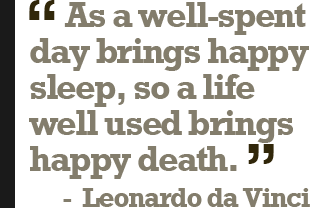 While so many people avoid talking about death and dying like it is the plague, some of our finest philosophers, poets and scholars have waxed lyrical about it. From cynical to profound, reflective to encouraging, inspiring to downright funny… they try and make sense of the eventuality we all have to face.
"Live as you would have wished to live when you are dying."
– Christian Furchtegott Gellert, German poet (1715 – 1769).
"You matter because you are you, and you matter to the end of your life. We will do all we can not only to help you die peacefully, but also to live until you die."
– Dame Cicely Saunders, nurse, physician and writer, and founder of hospice movement (1918 – 2005).
"The nearer she came to death, the more, by some perversity of nature, did she enjoy living."
– Ellen Glasgow, American novelist (1873-1945).
"Some people are so afraid to die that they never begin to live."
– Henry Van Dyke, American short-story writer, poet and essayist (1852 – 1933).
"Life is pleasant. Death is peaceful. It's the transition that's troublesome."
– Isaac Asimov, American science fiction novelist & scholar (1920 – 1992).
"Death helps us to see what is worth trusting and loving and what is a waste of time." 

– J. Neville Ward, Methodist minister (1915 – 1992).
"The question is not whether we will die, but how we will live."
– Dr Joan Borysenko, medical scientist and psychologist (b.1945).
"As a well-spent day brings happy sleep, so a life well used brings happy death."
– Leonardo da Vinci, Italian polymath (1452 – 1519).
"Live as if you were to die tomorrow. Learn as if you were to live forever."
– Mahatma Gandhi, Indian philosopher (1869 – 1948).
"The fear of death follows from the fear of life. A man who lives fully is prepared to die at any time."
– Mark Twain, American novelist and humorist (1835 – 1910).
"Forgive yourself before you die. Then forgive others."
– Morrie Schwartz, American educator and writer (1916 – 1995).
"When you learn how to die, you learn how to live."
– Morrie Schwartz, American educator and writer (1916 – 1995).
"Death is not the greatest loss in life. The greatest loss is what dies inside us while we live."
– Norman Cousins, American political journalist, author, professor, and world peace advocate (1915 -1990).
"Somebody should tell us, right at the start of our lives, that we are dying. Then we might live life to the limit, every minute of every day. Do it! I say. Whatever you want to do, do it now! There are only so many tomorrows."
– Pope Paul VI, Italian Pope (1897 – 1978).
"… almost everything – all external expectations, all pride, all fear of embarrassment or failure – these things just fall away in the face of death, leaving only what is truly important. Remembering that you are going to die is the best way I know to avoid the trap of thinking you have something to lose. You are already naked. There is no reason not to follow your heart."
– Steve Jobs, American Entrepreneur, Apple co-Founder (b.1955).
"Every man dies – Not every man really lives."
– William Ross Wallace, American poet (1819 – 1881).
"Try as much as possible to be wholly alive, with all your might, and when you laugh, laugh like hell and when you get angry, get good and angry. Try to be alive. You will be dead soon enough."
– William Saroyan, American writer (1908 – 1981)
"I am not afraid of death, I just don't want to be there when it happens."
– Woody Allen, American screenwriter, film director, actor, comedian, writer, musician and playwright (b.1935).
"For mortals vanished from the day's sweet light. I shed no tear; rather I mourn for those who day and night live in death's fear."
– Greek Epigram