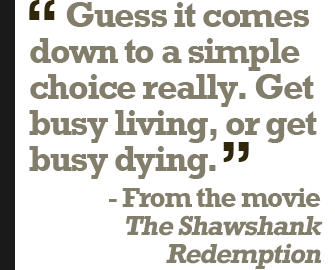 In the movie, The Shawshank Redemption actor Tim Robbins says to his fellow prison inmate Morgan Freeman, Guess it comes down to a simple choice really. Get busy living, or get busy dying. A bit of make-believe magic with a poignant lesson for those of us in the real world. So do you want to leave this life with dreams unfulfilled? Or will you take your best shot at Life? Go on, make your list and get started.  Watch video
Turn a Wish or Desire into Reality with a Plan-of-Action
Celebrate your life. Start today. Make a list. Check it twice. Then take steps to turn this wish list into a to-do list. Start small. Keep it real. Stuff youre most likely to do. And get going. Start with the easiest and make it your goal to cross off one item on that list every year.
Poking Your Nose In Other Peoples Bucket Lists
Need some ideas for good stuff to put on your Bucket List? Check out bucket lists made by the rich-and-famous, and the completely unknown. From run-of-the-mill ideas to stuff thats really out there. Here are some examples for you to draw inspiration from or simply have a good chuckle at.
The Sports Fanatic's Bucket List
Sports Illustrated writers discussed sporting events they most want to participate in or cover, ranging from taking in the big surf at Half Moon Bay, to running the Boston Marathon, to watching the ancient ice-skating marathon on the canals of Holland.  Read more
The Wanderlust Bucket List
CNN talked to people who have been travelling to places they dont want to miss. Some favourites are the ancient ruins of Machu Picchu in Peru, the Grand Canyon in Arizona, and the Acropolis and Parthenon in Athens, Greece.  Read more
The Inspirational Bucket List
This is a "feel good" list. You'll get ideas on how to mend broken bridges; make peace with your loved ones (and yourself); conquer your greatest fear; and explore your spirituality, amongst others.  Read more
The Fitness Bucket List
In this fitness-oriented bucket list, the writer shares 5 things he wants to do including scale a mountain, take a hiking vacation and run a marathon in Greece. Note that preparing to cross off items on this list may actually buy you more time to get them done. Or not. Either way, looks like fun.  Read more
It's time to really start living today. Got your Bucket List? Get set. Go!