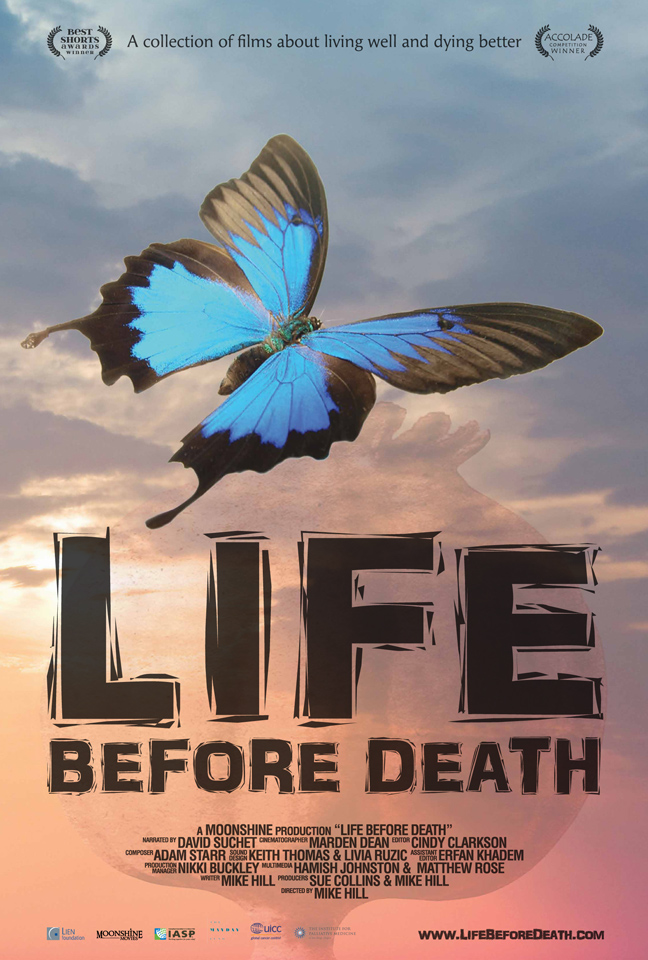 "An undoubtedly impressive, professional and humanitarian film" ~ Miri Ziv, Director General, Israel Cancer Association
"It was incredibly powerful and we followed it with a very intense discussion. You've done an amazing job with the documentary and the entire LIFE Before Death initiative. Congratulations!!" ~ Jon Radulovic, Vice President, Communications, National Hospice and Palliative Care Organization (NHPCO), Virginia, USA
"Many thanks to your team for this eye catching yet educative film. Indeed this by far has been the best documentary that covers a wide range of life situations that palliative care providers offer and what experiences the staff and patients and family go through." ~ Shem Mutala, Hospice Jinja, Uganda
"I would like, on behalf of Cancer Support Network of Zambia, to express our profound gratitude to Moonshine Movies, UICC and Us Too International for providing materials that made our World Cancer Day such an enriching experience for many many people in Kitwe, Zambia… The discussion on pain management by the students was thought provoking and highlighted a lot of issues concerning gaps in nursing care concerning pain management. We are planning to contact the School of Nursing Authority so we can screen it to all students as well as nurses on the service side. Well, it was indeed an enriching experience for all of us, survivor and co-survivors alike." ~ Justina Simpungwe, National Director, Cancer Support Network of Zambia
"Thought you would want to add this to our feedback from World Cancer Day. This was the most unexpected outcome but a necessary one. Kitwe Central Hospital serves a population of 2 Million people on the Copperbelt Province of Zambia but has no specialized facility for cancer treatment. A tumor center added to that hospital will save a lot of lives. Once again, thank you for providing the movie – it has helped to influence the Hospital Administration to start this very important project." ~ Doreen Mwenya-Grant, Chairperson, Cancer Support Network of Zambia
"We had the screening on the 2nd February, the Argentinean National Cancer Institute, the Argentinean PC Association, and our Program. It was an excellent experience. Everyone liked the film, it had an enormous impact, and the debate that was generated afterwards was very interesting and productive. The National Cancer Institute wants to organize more screenings in different cities, provinces of Argentina during 2012, they already are organizing 5 more screenings, and are doing an annual schedule for it. It is in their agenda." ~ Dr Sophia Bunge, Palliative Care Doctor, Argentina
"It was a great event – quite inspiring and reinforced my sense that this is a path we should continue to pursue – education, research and policy/advocacy." ~ Aviva Must PhD, Dean for Public Health & Professional Degree Programs at Tufts University School of Medicine, Boston, USA
"The movie LIFE Before Death has really challenged many people here in Kenya. We had a very successful day. Over 300 people came to watch the movie: doctors, nurses, medical students; patients; care givers and officials from the Ministry of Health (the head of non communicable diseases as well as the deputy chief pharmacist ministry medical services; activists and the general public as well." ~ Dr Zipporah Ali, National Coordinator, Kenya Hospices and Palliative Care Association
"Today we screened the film 'Life Before Death' for 50 people including representatives of ministry of health and public societies. The response was great, and we agreed to make the year of 2012 a year for buiding capacity for palliative care and pain relief by advanced training, arranging for an international palliative care conference, in addition to raising public awareness by holding workshops, campaigns and creating a TV show toward spreading the culture of the society." ~ Dr. Mohammad Bushnaq, Jordan Palliative Care Society, Amman, Jordan
"I have seen the video, it shows real facts of life and a wonderful movie. We will be arranging Cancer Pain Day on 4th Feb at different pain centers of Pakistan. A special arrangement has been done at Rawalpindi and Islamabad where we will invite students, doctors and people from media." ~ Brig M. Salim PhD, President Pakistan Chapter IASP, Professor of Anaesthesiology, Rawalpindi, Pakistan
"LIFE Before Death has made a huge impact. Fantastic. The screening in Samoa was a great success, it helped to change some of the perspectives of a lot of people in Samoa and many other places I have worked in, going from palliative care is doom and death to hope, care and quality of life." ~ Liese Groot-Alberts, Grief Therapist, New Zealand/ Samoa
"I saw the movie and found myself in tears. What a film!" ~ Ms Deepa Muthaiya, Founder DEAN Foundation, Chennai, India
"Having missed the window set aside for showing your beautiful & touching film, we finally managed a screening for Members of Indian Cancer Society, Delhi on Friday 23 March. Our audience had mainly Cancer Survivors & Caregivers, so it was painful to many to relive their life experience and to face deepest fears. The film was sensitive, and yet directly confronting of what pain does to living beings. Two statements in particular elicited a lot of discussion – "The arrogance of Health", and the Physician's acceptance of Pain as 'part of the disease process'. I think most Survivors recognised both situations as part of their reality. Even much admired Doctors had displayed this state of mind. It was accepted with a wry smile! Death is a thought in all minds – you do not need serious illness to remind, especially as one advances in age. But Pain is a dread, one prays for a painless death. The segment on children in pain was gut wrenching – they must be the only ones without a thought or understanding of pain/death. For all of us, the film was a reminder of why we spend decades of time in chasing Cancer Control." ~ Jyotsna Govil, Hon. Secretary, Indian Cancer Society, Delhi
"After seeing this film, no one will be able to claim that they did not know. The reality of the millions that die in pain was plainly shown. Yet this is a film about hope. Seeing those who have been helped to find relief for their pain even in difficult circumstances was very encouraging. The determination of those such as Dr Rajgopal who have managed to overcome great barriers in bringing relief to so many was truly inspiring. As Mary Callaway and Kathy Foley challenge us, the real question now is, "Why don't we do something to stop the pain?" We have the knowledge, we have the means and we been shown the way. The real task is to change the minds and change the message. Pain relief is possible; there is LIFE before death." ~ Dr David Cameron, Senior Specialist, Foundation for Professional Development, South Africa
"The film event brought healthcare providers and University of Washington students together bearing witness to a suffering many of us were not aware of. The lack of access to pain relief through the "web of barriers" such as the legal, regulatory restrictions and the concerns for drug diversion and addiction, were astounding to witness. This film reminds us that we do all belong together…and that together we can make a difference." ~ Bonnie Letinich, Clinical Associate Professor University of Washington, School of Social Work
"The Pain Research Forum team attended LIFE Before Death screenings last week. We found ourselves moved by the stories of patients and families, and grateful to the filmmakers for bringing them to us. The film expertly interweaves intimate portraits with illuminating comments from health professionals, policy makers, and palliative care pioneers. Together, the elements make for an informative, bracing experience.
After the film, I spoke with Kathleen Foley, Memorial Sloan-Kettering Cancer Center, New York City, USA, whose deep passion for the project was evident. Foley, a PRF science advisor, served as an advisor to the filmmakers and appears in the movie. She had these comments about the relevance of the documentary not just for policy makers and the public, but for researchers as well:
"In their abstracts and grants, pain researchers always put in something saying that the work is important. This film is about exactly why it is important. I hope the film will remind pain researchers of the moral imperative for the work they do.
"There are an extraordinary number of people in the world who are in pain, and research would make such a difference. LIFE Before Death focuses on the availability of drugs like morphine, but even those simple drugs require a research base. And we need so much more than morphine, because there are so many aspects of pain for which we don't understand the mechanisms or have good treatments—so in the long haul, research is going to be the answer.
"At the core, the film addresses a common human experience of pain, and the ways it interferes with people's quality of life. Often the problem is just theoretical; perhaps the film will make it real, and personal. Pain research is profoundly underfunded, so there is a tremendous need to tell these stories."
~ Megan Talkington, Pain Research Forum, USA
"The philosopher and sociologist Theodor Adorno wrote that letting the voice of suffering be heard is the condition of all truth. Most journalism and documentary filmmaking that claims to "cover" human suffering of any cause in fact covers it up by packaging it as a titillating news item for sale on the entertainment market. Not so the remarkable film "Life Before Death" by the Australian filmmakers Sue Collins and Mike Hill. Their unflinching camera looks patiently and – necessarily – painfully at the faces of suffering and reproduces its voices without sugar coating and without a quick turn to lighter fare. To its great credit, the film is hard to watch, and no one care look into this abyss without being profoundly moved. The deft juxtaposition of everyday street life in the wealthy world with the faces of the indigent sick and suffering amplifies their voices and those of the clinicians struggling against shamefully great obstacles to relieve the suffering. A recent screening of the film at Harvard Medical School ended in silence, a silence that indicates both that the voice of suffering was heard and that it rarely is, that it is almost always is drowned out by the cacophony of the mass media. Our invited speaker for the event, Dr. Faith Mwangi-Powell of the African Palliative Care Association, caste aside her prepared remarks, allowed for some moments the voices of suffering to reverberate in the silence, and then recounted quietly but powerfully how these very voices had called her seven years ago to leave the comfort and security of a European professional career and move to Uganda in an attempt to respond. Dr. Lachlan Forrow, President of the Albert Schweitzer Foundation and one of our two panelists, recounted Schweitzer's response to the call and his own, as did our other panelist, Dr. Gene Buchman of Partners In Health. If the film has any shortcoming, it is that it disrupts our comfortable everyday thoughts, puts in question the morality of rich world comforts when the poor suffer unspeakably and unnecessarily for lack of basic human rights including relief of pain. But this is also the film's great achievement, and the reason it should be seen by all."
~ Eric Krakauer, MD, PhD, Harvard Medical School
"Last night we watched LIFE Before Death – what an extraordinary film on so many levels.
First off whoever mapped it out as to what content, where to go, who to interview did it brilliantly. The editor of what must have been hours of video did an amazing job. The sound track perfect. The creation / weaving of experts in the field and patients masterful.
The patients and families who allowed us to enter their lives at a time of extreme difficulty so that others might learn – God bless all of them and God bless all of the folks around the world who care for these people.
I think it will sensitize a lot of people who have no idea what international pain control is about.
I also think those who work in this field will realize they're not alone in fighting battles for better pain control and better access to morphine. That will give them strength.
In a word it was absolutely fabulous."
~ Professor Joann Eland, University of Iowa, USA
"PREP is honored to be one of the sites at which this remarkable film will be premiered worldwide. Sponsored by international pain relief and anti-cancer organizations, LIFE Before Death presents a moving, sobering and ultimately inspiring picture of courage amidst suffering. Tragically, much of the suffering at the end of life documented in this film in emerging economies is the unnecessary consequence of the unavailability of morphine and other inexpensive, effective medications. In first-world countries, patients are caught within health systems whose major goal is curbing prescription drug abuse. At a time when access to pain control is seen as a human right, this film appropriately pushes us out of our comfort zone", stated Dr. Carr.
As emphasized by Dr. Carr, the issue of pain control in emerging global economies is immense. Global health organizations have estimated that more than 3.3 million individuals die with untreated moderate or severe pain form cancer and HIV each year (2009 WHO and UN Narcotics Control Board). Advocacy for adequate pain and palliative care is essential, concurred Carol Curtiss, MSN, RN-BC, a palliative care expert and adjunct faculty member of the PREP program. Ms. Curtiss stated, "Unrelieved pain and other distressing symptoms are challenges to quality of life, yet millions of people worldwide do not have access to expert care, basic pain medications and the other essential resources. Through viewing this film, LIFE Before Death, I hope participants will acquire or renew their passion to advocate for changes in policy, education and research that will make access to pain and palliative care a reality for people who experience life-threatening illnesses. For me, this film reaffirms what I've learned over the years by working with colleagues in developing countries and in clinical practice here – we have much more work to do to assure that individuals everywhere have the right to effective pain management and palliative care throughout their lives. In the U.S., we are facing difficult times dealing with misuse and diversion of medications. We MUST be sure that people with pain have access to evidence-based pain management and palliative care in the U.S. and around the world."
~ Dr. Dan Carr, director and founder of the Pain Research, Education and Policy Program (PREP) within Tufts Public Health
Film looks at crisis in pain relief for dying
Dying does not have to hurt. That is the key message of a feature film coming soon to the Comox Valley. Although it is unnecessary for any human being to suffer from terrible pain in the final stages of life, the reality-in many parts of the world-is far too often a different story. Lack of access to essential pain medications and palliative care is the problem; but it is a problem that is relatively simple to solve.
"I would like to go quietly in my sleep," is what most of us have to say about dying. We tend to take care of the legal and financial preparations that seem necessary. Beyond that, we generally prefer not to talk about dying-or even think about it, for that matter.
But a movie produced by Australian filmmakers, "Life Before Death," is asking us to open our eyes and see what the days leading up to dying actually look and feel like for many people. Why? Because by increasing awareness of what they consider to be a global humanitarian crisis, they hope to help make the final days of life much less painful for those who are suffering unnecessarily all around the world.
Making the process of approaching death far more gentle and humane for millions of people is not as daunting a task as it may seem. Morphine- the tried and true gold standard in pain relief-is actually cheap, plentiful, and available in sufficient quantities in many countries. Gaining access to it for those who need it most, however, is a widespread problem. Far too often and in too many countries, that means trying to pass through a formidably sticky wicket of red tape.
Unreasonably complex and restrictive government regulations, controls, and licensing requirements create a maze of bureaucratic roadblocks. Rather than serving the legitimate purposes-such as prevention of abuse and illegal trafficking-for which they are purportedly intended, they stand in the way of delivering essential pain medications to patients who are left dying in terrible pain.
Eighty percent of all people cannot access essential pain medicines. Fifteen percent of the world currently uses ninety-four percent of the world's medicinal opioids, according to the film. Allowing such an imbalance to continue violates what must certainly be considered one of the most basic of human rights: the right to die with dignity. Yet very few people even know that such a problem exists.
Once you do know about it, however, you cannot help but recognize that thousands of people dying in excruciating pain unnecessarily every day is truly a humanitarian crisis that shouldn't be allowed to go on.
That is where the Australian filmmakers who produced "Life Before Death," come into the picture. "Life Before Death" is a beautifully shot eighty-minute feature film that will be screened at North Island College's Stan Hagen Theatre on Friday April 27, at 7pm, presented by the Comox Valley Hospice Society in collaboration with several other local non-profit groups. The suggestion donation for the screening is $2.
Compelling in unexpected ways, never morose, and deeply affecting without being manipulative, this movie takes us to eleven countries and introduces some exceptionally wise, compassionate men and women who stand comfortably beside death every day. Through doctors and advocates of many kinds, the film speaks clearly on behalf of patients dying in relentless pain who cannot speak for themselves.
At times the movie lets the audience directly hear the poignant voices of those who are still able to describe their own predicament, despite the distress that is their daily life as they approach their dying day. But then comes the all-important counterpart, the good news: "Pain is a treatable problem," as one end-of-life nurse in the movie puts it. The solution is actually simple: effective medicines exist, and they are inexpensive.
It makes a profound difference when these patients simply receive the pain medication they need. Truly, it makes all the difference in the world to them. Life instantly becomes so much brighter in every way-not just physically, but mentally, emotionally, and spiritually too-that even if the day might be their last one, they suddenly find it worth living.
One doctor in the movie describes a typical patient with not long to live, lying on the ground in a developing country, unable to sit up, not eating or speaking, because of unspeakable pain. When the patient is administered a small dose of morphine, "a simple, cost-effective drug- that is 100% effective," within minutes that person is sitting up, talking with family, taking bites of food, smiling, even laughing. Not only the patient, but also the whole family, breathes a huge sigh of relief. "Why would we not do this?" the doctor asks. "Yet at every corner there is a challenge to the availability of these drugs."
The film's original musical score has lyrics that sum up one key message of the movie: the reason for us to care about strangers who are suffering from unnecessary pain in far reaches of the world. It is a simple request for something we would all wish to have when our own time comes, even if we prefer not to think about it now.
"Take away the pain inside me," the song says. "Give me one last dance with peace."
~ Susan Griffin, Comox Valley Echo, British Columbia, Canada