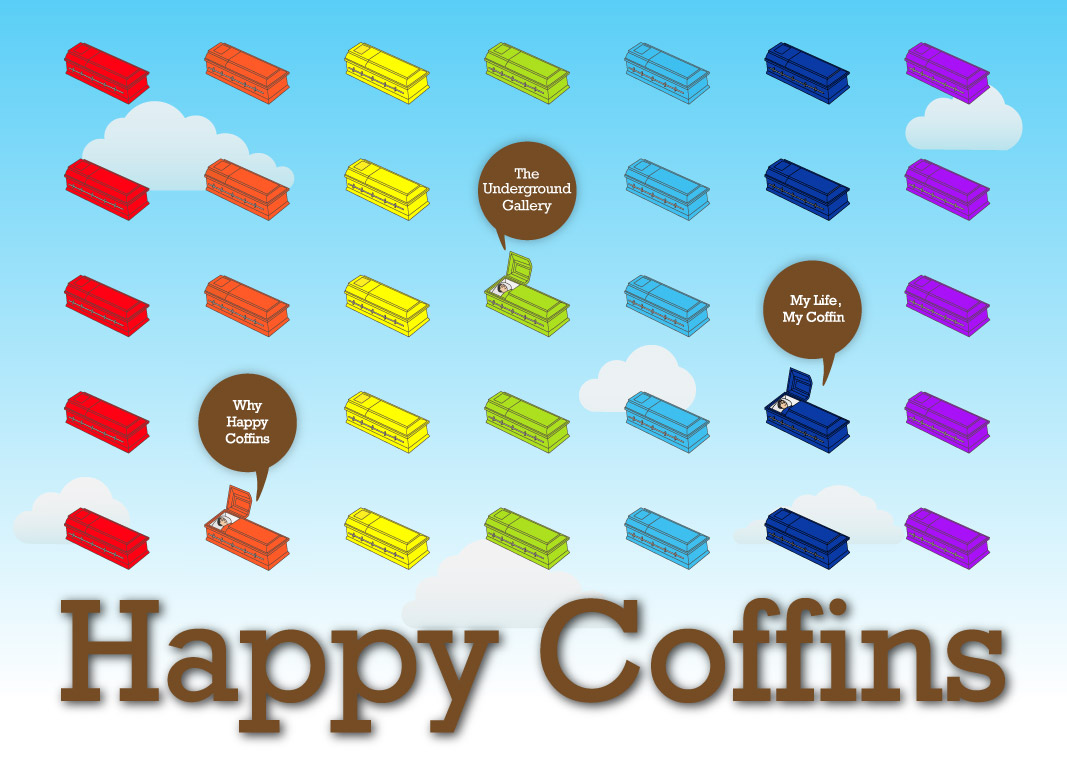 Why Happy Coffins
"Happy Coffins" is another quirky component of the Lien Foundation's Life Before Death initiative to dismantle the taboos surrounding Death & Dying by encouraging "die-logues" about this often-sensitive subject. The Foundation aims to get people openly talking about Death to help put this "end-of-life" phenomenon in a more positive, empowering light.
"Happy Coffins" takes the somber, dark pall surrounding Death – and turns it on its head.  "Happy Coffins" presents respectfully "out-of-the-box" interpretations of that final "in-the-box" journey by international artists and designers.
"Happy Coffins" is a creative, colourful & whimsical celebration of The Art of Life & Death that found expression in two categories:
An online competition to create coffins inspired by the Lien Foundation's off-the-wall, positive Life Before Death messaging. Over 700 entries from 37 countries were received.

Professional designers were presented the challenge of creating 3 personalized coffins for residents of the St. Joseph's Home & Hospice (Singapore). And a fourth based solely on the designer's personal perspective on Death.
The coffins were happily launched on 28 September 2010:
Press Release | Information Booklet
The Underground Gallery
In July 2010 an international art competition was facilitated by online portal for creativity, Eyeka. A total of 733 entries was received from 37 countries. Artists & designers from Asia, Africa, the Americas, Australasia and Europe enthusiastically responded to the challenge to get creative with the most unusual of canvasses – the Coffin.
Participants had to design a coffin for a family member, close friend or someone who had been an inspiration. Or they could choose to design their own coffin. Each entry had to be accompanied by a written sharing of the thought process leading to the final design.
After a tedious and lengthy process of evaluation, 12 entries made the final competition short-list – 2 winners and 10 runners-up. A selection of these designs representing a range of creative ideas and artistic styles was turned into actual, functional coffins.
My Life, My Coffin
The Lien Foundation engaged the services of Singapore–based FARM – a creative arts community – to curate the works of four professional designers. The first three were tasked with designing personalized coffins for 3 residents of the St. Joseph's Home and Hospice (Singapore). Each designer was paired with a resident and spent time learning about their lives, personalities and what each wanted to depict on their personalized coffin. The designers also had to reflect the philosophy and intent of the Life Before Death initiative in their designs. They next worked at their respective drawing boards, using their unique artistic styles to create thought-provoking coffins that embody and celebrate the lives of each resident. The final designs were the blueprints from which a coffin was built for each of the residents to eventually use.
The fourth designer, Singapore-based French artist Giles Massot was commissioned to create a coffin for himself. He was free to base his design on his personal philosophy of Death, with consideration also given to key messages of the Life Before Death initiative.